What Is E-Wallet?
E-wallet refers to the online service that enables people to carry out electronic transactions online. E-wallet stores information related to e-money such as e-pin etc.Thus, e-wallets eliminate the necessity to go through user information every time an online financial transaction using e-money is conducted.
E-Money or E-Currency is the monetary unit that does not exist in substantial form. It only exists electronically in the online banking system. E-wallets offer increased safety in online transactions. Because, card details are not passed but a unique transaction identifier is used.
What Is E-Wallet Module In MLM Software?
Much like any other e-commerce platform, MLM Software also involves the use of E-money. The e-wallet module in our MLM software ensures secure and risk-free E-money transactions.
Additionally, the e-wallet module enables companies to operate and manage all cash-in cash-out transaction information of users. Activities like generating e-pins, viewing transfer history and integrating bank accounts and credit cards are all made possible with the e-wallet module.Without an e-wallet module, it is literally impractical to carry out prompt and efficient transactions involved in an MLM business.
Uses Of E-Money Or E-Wallet In MLM Software
Like all other E-commerce platforms,our Customized MLM Software also features with E-money, E-pin & E-wallet. When a financial transaction is performed using the E-money, the whole process is completed within a matter of time.
Along with the versatile features, our MLM Software also ensures secured E-Money transactions. For an MLM Company, an E-wallet system is essential to manage and operate all Cash-in, Cash-out financial information of the user.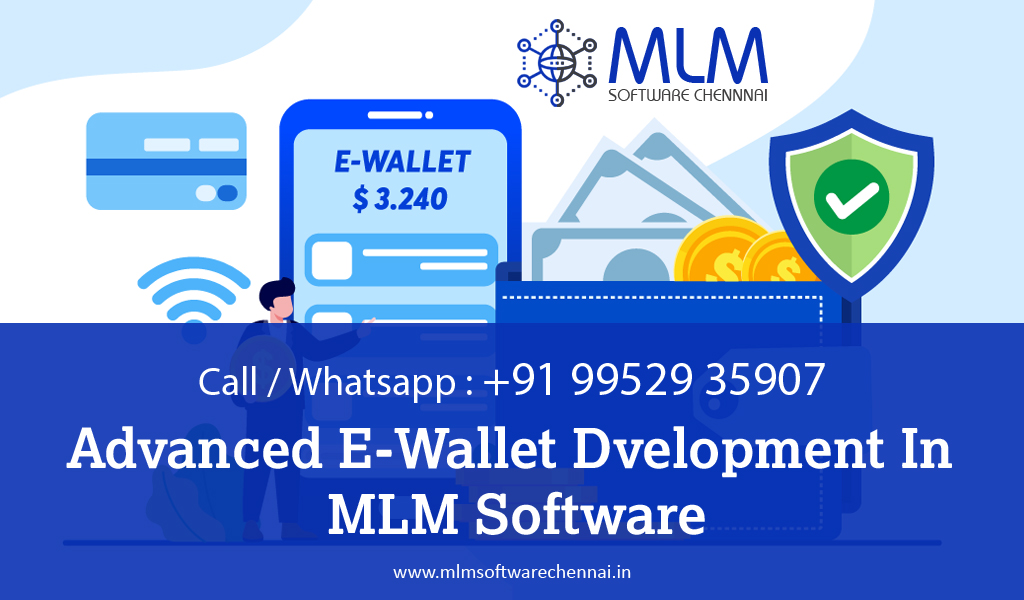 Cash-In Process
1. The Member gets a commission from MLM Plans.
2.Through deposits (which is transferred from Credit Cards,Debit Card or any other payments Gateways).
3. From other E-Wallet accounts as E-money transfer.
Cash-Out Process Takes Place When
1. User pays the new membership fee for online registration
2. During withdrawal
3. While transferring E-money to another E-Wallet account
4. While adjusting bonus
5. While buying E-pins
6. While Upgrading member account
7. While Requesting E-Money withdrawal etc.
How E-Wallet Works In MLM Software?
The E-wallet integrated in MLM software is the place where the various commissions, bonuses, or E-pins are stored as E-money.
Through the Cash-in process, the E-money is transferred to a distributor's E-wallet as commission or bonus earned by the distributor and the distributor can raise the payout request to the admin to receive the E-money as physical money.
Once the cashout process is processed, the distributor can withdraw the e-money via the integrated payment gateway like PayPal, GPay, by linking the distributor's bank account with the payment gateways.