BEP2 Token Development
BEP-2 is the token standard for Binance Chain, and it can be seen as the original Binance blockchain, which focuses on speedy transactions and supporting the Binance DEX.
Binance Chain's native digital asset, Binance Coin (BNB), plays a role similar to Ethereum gas. Specifically, users can pay for fees or transfers of BEP-2 tokens with BNB. Just like the vast majority of other digital tokens, BEP-2 tokens can be stored in wallets. BEP-2 has support from various hardware wallets (such as Trezor Model T, Ledger Nano S, Ledger Nano X, and the Coolwallet S).
This goes even further in that Binance Chain and Binance Smart Chain feature certain "cross-chain" functionality. So, what does this mean? Well, in short, it effectively means that BEP-2 tokens can be exchanged for BEP-20 token equivalents.
BEP-20 Token Development
BEP-20 is the token standard for the Binance Smart Chain , BEP-20 represents a token standard, just like Ethereum's well-known, smart contract-compatible technical standard ERC-20 does. The token standard ensures basic functionality for the token, such as transferring, returning a balance, viewing token ownership, etc.
BEP20 is a developer-friendly token standard that allows anyone. With exorbitant Ethereum gas fees, there's a sudden demand for a smart contract compatible DeFi platform with lower fees. Binance Smart Chain offers just that, as well as an environment that's comparatively easy for developers to adapt their Ethereum dApps to.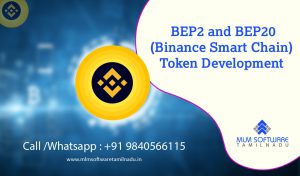 BEP-20 sets a common set of rules for token management. The BEP-20 token is also found to be compatible with the ERC-20 and BEP-2 (Token of the Binance Chain) since they're similar.
As a chain that runs parallel to Binance Chain, Binance Smart Chain is specifically designed to cater to smart contracts. Binance Smart Chain is built for decentralized finance (DeFi) and decentralized applications (dApps).
Advantages of BEP20 Token Development
It provides an extensible and flexible platform for developers to use this token as a blueprint and develop other tokens.
These newly developed tokens can represent a range of things from shares, crypto assets, fiat currencies, etc.
Another interesting feature of the BEP-20 token is that other tokens from other blockchains can be pegged on this token. In other words, developers can create other versions of crypto assets with these tokens.
An important aspect of BEP-20 tokens is that they create a token contract on the smart chain network.
As an incentive for those acting as validators transferring BEP-20 tokens, the BNB token is provided. It can be collected as a transaction fee, quite similar to what is observed with the BEP-2 token on the Binance Chain.
What is the difference between BEP2 and BEP20?
Both BEP-2 tokens and BEP-20 tokens are fueled using Binance Coin (BNB). This stems from the fact that BEP-2 and BEP-20 are designed with "dual chain architecture", where the Binance Chain and Binance Smart Chain support each other.
If you created a Multicoin account, your BEP2 address would be the BNB address on your trustwallet. Your BEP20 address would be the coin called "SmartChain". The BEP2 address starts with "bnb". Your BEP20 address starts with 0x just like an Ethereum address.
Just to make the differences between BEP-2 and BEP-20 as clear as possible, they are all different token standards for different blockchains, according to this order:
Binance Chain – BEP-2
Binance Smart Chain – BEP-20
Binance Chain and Binance Smart Chain's relatively unique dual-chain architecture is an interesting solution to retaining speedy transactions while incorporating smart chain functionality.
Benefits of using Binance Smart Chain network
The Binance Smart Chain is highly scalable and supported directly by Binance.
You can easily create and deploy tokens and smart contracts without much hassle.
Transactions are much faster and dependable compared to other blockchain networks.
Benefits and Features of BEP-2 and BEP-20(Binance Smart Chain)
These tokens offers a range of advantages and benefits for the token holders and those who wish to develop tokens like BEP-2 and BEP-20.
Benefits of BEP20 Token Development
Extremely low gas fees for transactions as compared to other blockchains.
Binance Smart Chain offers higher transaction speeds as compared to other blockchains.
You can easily integrate BEP20 tokens into your DeFi project and list them for free on DEXs such as PancakeSwap.
Features of BEP20 Token Development
Fast Transactions
One of the major benefits of using Binance BEP20 token development is that it supports high transaction speeds and is highly scalable.
Low Transaction Fees
Through BEP20 token development, you can let users transact your tokens without paying high gas fees like on the Ethereum network.
Cross-chain compatibility
BEP20 tokens work seamlessly with BEP2 tokens of the Binance Chain. You can easily switch between the two networks using a simple wallet.
Easy Listing on Exchanges
You can easily list your BEP20 tokens on decentralized exchanges without much hassle, providing for an easy token sale.
Benefits of BEP2 Token Development
It decreases the amount of effort required from developers to issue tokens.
The native asset of Binance Chain is BNB, which is used to pay for fees (similar to gas). This means that when you'd like to transfer your BEP-2 tokens, you'll also need to have a small amount of BNB in your wallet.
You can store BEP-2 tokens in many different wallets. Trust Walletis an excellent option if you'd like to use a mobile wallet.
Features of BEP2 Token Development
High security
High transaction speed
If you're looking for a platform with low fees, fast transaction times, and smart contract compatibility, then look no further than Binance Smart Chain (BSC).