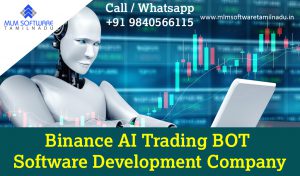 We MLM Software Tamilnadu design Binance AI Trading Bot Software to provide a credible platform to formulate new strategies that boost the products to be in the client's best interest. MLM Software Tamilnadu is a leading Software development Company in India, crafting innovative software with expertise in the industry along with years of experience.
Our conversational AI platform is created to keep up with the always-changing customer demands to deliver quick, personalised support in a language and channel of their choice, at scale.
We offers trading bot solutions to get rid of the difficulties that you are facing while trading. The trading bot utilizes AI to execute trades based on your trading strategies and supports live trading and serves as the best market place for the traders.
What is Binance?
Binance is one of the biggest crypto exchanges in terms of volume, and automating your trades at Binance can take you a great deal of time. Binance is one of the largest trading platforms around the globe.
Working as one of the most innovative algorithmic trading sequences, the unique AI-based trading bot allows everyone and anyone to become a professional trader and earn big profits. The AI trader works 24/7, applying different trading strategies for the users in the Binance account.
BINANCE API:
Having a trading bot on Binance could be profitable, but there are few steps that need to be taken in order to set up the trading bot in Binance. Binance does allow trading bots, and it provides API keys to help you connect your exchange accounts to the software. API keys are generated within Binance users account dashboard. In the API Management section, users can create corresponding API keys.
Binance also allows to easily customize permissions for the API key, to make it safe for automated software and have a security process to prevent unauthorized API key generation on user accounts.
AI Crypto Trading Bots:
Most cryptocurrency bot providers offer manual bot setup with conventional strategies so far. But this places the effort, burden and risk of finding a profitable setup on the user. In fact, the majority of traders never succeed to find a long-term strategy that is not loosing money.
Recently, AI trading bots can achieve a higher level of performance. Also, the user doesn't have to study and try different strategies and parameters. The trading bot enables non-professional traders to use highly profitable strategies.
Key Features of AI Crypto Trading Bots:
• User Experience
• Trading Strategies
• Transparency
• Security
• Pricing
What are the benefits and risks of AI trading bots?
Benefits
• Buy and sell assets from the comfort of your home
• Hundreds of different AI trading sites active in the market
• Thousands of financial instruments available to trade
• Use everyday payment methods to deposit and withdraw funds
• The best sites are regulated by stringent licensing bodies (like the FCA)
• Trading fees and commissions are super-competitive
Risks
• Newbie traders often lose money
• Not all AI trading bots are credible
• You will need to meet a minimum deposit amount
AI crypto trading app for Binance. It's simple, highly profitable and secure. Unlock hedge-fund grade automated trading for your Binance account.
Investing with Bitcoin Trading Bots
The trading bots have the ability to access data from multiple exchanges and adapt to predetermined investment strategies to make trades faster and more frequent.
Even for the random crypto investors, it's important to remember that trading bots are out there, and they can be a lot faster than your manual trading of cryptocurrencies. Thus the trading bots powered with AI seems to be the ultimate solution for trading.
Are trading bots worth it?
Trading bots are worth full to use, If there was no worth of trading bots, there wouldn't be people who use them. With robots, investors can get a lot of benefits. When the traders are using AI trading, they don't need to look at the screens 24/7 to not miss the chances and opportunities. Furthermore, they don't need to implement trading manually, instead, they can program the robot the way they think is the most efficient. Also, AI robots are quite well with multi-tasking, unlike humans, who have limited resources.